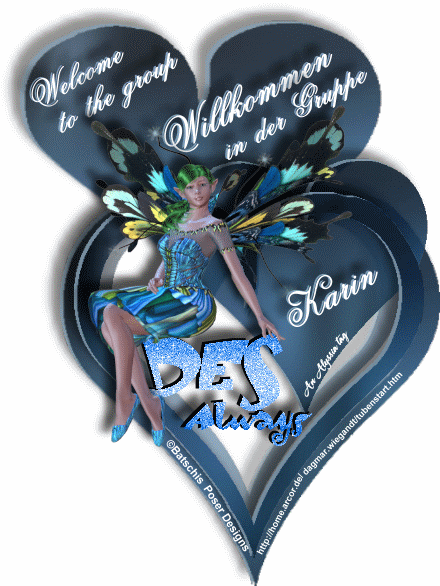 Des_Always_List is a Copyright Compliant group. We share primarily, but not exclusively, FTU poser art. There will be at times tubes of FTU non-poser artists that allow posted for you to snag along with scrap sets, accents, etc. This is a relatively active group. Check the activity level at the bottom of the home page to see what type of volume to expect.
Copyright Compliant tags are offered regularly by our members. You are also welcome to offer tags that are compliant, though it is not required.
Des_Always also stands for "Always friendly" You will meet new friends and maybe even an old friend or two. Participation is loved, but not required. It would be nice however to introduce yourself before beginning your lurking mode. So, kick off your shoes, relax, make your tea, coffee or what ever... and let the fun begin.
Des_Always_List ist ein Copyright-konforme Gruppe. Wir teilen in erster Linie, aber nicht ausschließlich, FTU ( frei zu benutzende ) Poser Kunst. Es wird manchmal auch FTU Tuben von Nichtposerkünstlern geben, die Du sammeln kannst zusammen mit Scrap Sets, Akzente, etc. Dies ist eine relativ aktive Gruppe, überprüfe die Aktivität an der Unterseite der Homepage, um zu sehen, wieviel mails zu erwarten sind.
Copyright-konforme Tags werden regelmäßig von unseren Mitgliedern angeboten . Wenn du auch konformeTags anbieten möchtest freuen wir uns sehr, aber es ist keine Bedingung.
Des_Always steht auch für "Immer freundlich" Du wirst neue Freunde treffen und vielleicht sogar einen oder zwei alte. Die Teilnahme ist gewünscht, aber kein Zwang. Es wäre aber schön, wenn Du dich kurz vorstellst. Also, zieh deine Schuhe aus, entspann Dich mach dir einen Tee, Kaffee oder was auch immer ... und schon kann der Spaß beginnen.